Portrait of Paul III with grandchildren is an artwork kept at Museo e Real Bosco Capodimonte di Napoli. It was inherited along with most of the Farnese collections and it came to Carlo di Borbone. It was the latter who brought the entire Farnese collection to Naples in 1734.
Portrait of Paolo III
Titianwent down in history as one of the most important exponents of thevenetian school
The Portrait of Paul III with nephews is a work executed in conjunction with the meeting that Paul III had with King Charles V of Habsburg in Ferrara in 1543.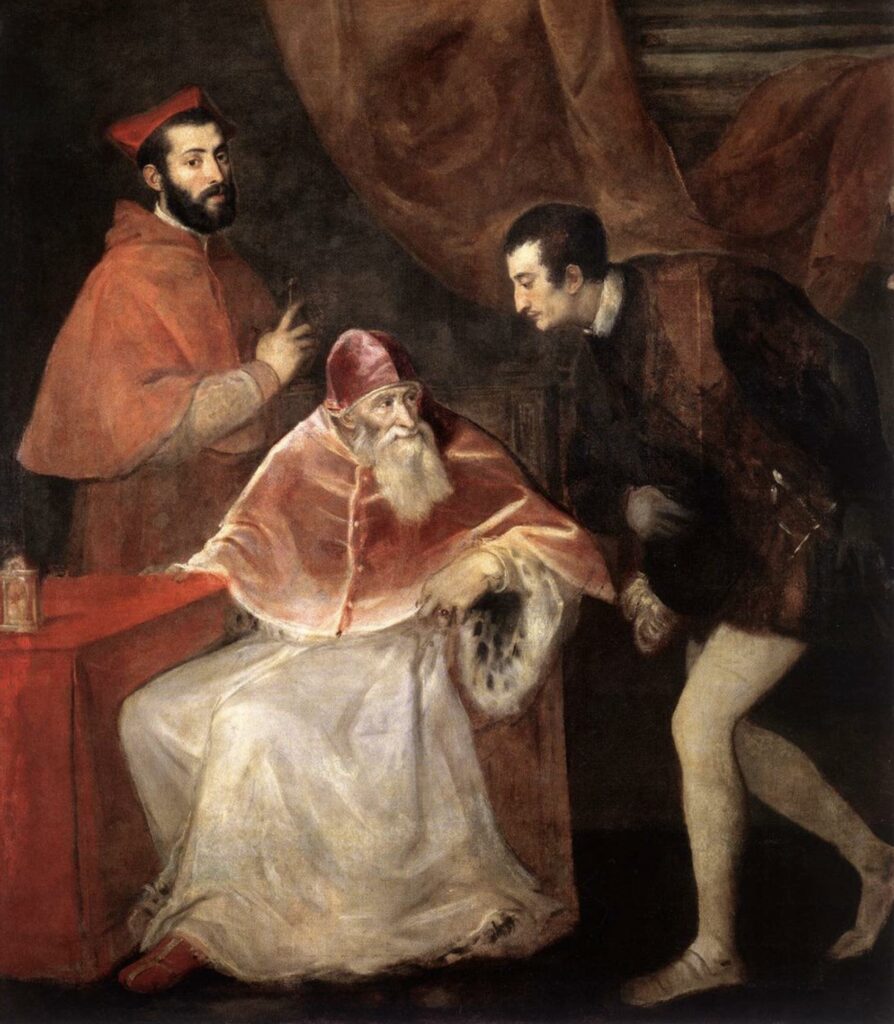 Characters
The characters in the painting are portrayed on a dark background, cut transversely by a red curtain. We are talking about Paul III and his nephews, Cardinal Alessandro and Ottavio, sons of Pier Luigi.
Tiziano paints the three men, paying particular attention to their physical appearance and translates each gesture into a state of mind so as to be considered one of the most extraordinary paintings on portraiture of all time.
Historic background
Counted among the Venetian painter's most famous masterpieces, the painting was created in a delicate and particular historical context, animated by suspicions and conspiracies, fears and mistrust that made the atmosphere of the Farnese house gloomy.
Particularly significant is the use that Titian makes of the color red, which modulates in three different shades between the robe of the pope, that of his nephew as a cardinal and of the curtain.
Titian and the papacy
This masterpiece by Titian is further evidence of how he could reclaim his role and his art in the papal household.
In the following years, in fact, other famous portraits of the noble family were executed in succession: the Portrait of Pier Luigi Farnese, the Portrait of Paul III with his nephews Alessandro and Ottavio Farnese, the Portrait of Paul III with the camauro and the Portrait of Cardinal Alessandro Farnese.
Do you want to discover all the museums, exhibitions and events in Naples? Click here!
(Visited 1 times, 1 visits today)