The Storm is an artwork by Giorgione, presumably made between 1500 and 1510, according to most scholars it could date from the years 1502-1503.
The canvas is located today at theGallerie dell'Accademia in Venice.
The Storm is perhaps one of the most mysterious artworks of the Venetian painter who, still today, stands out for having himself been one of the most enigmatic figures in the history of art.
The artwork is par excellence defined as the first landscape in the history of Western art, however not taking into account the drawings of Leonardo or Dürer.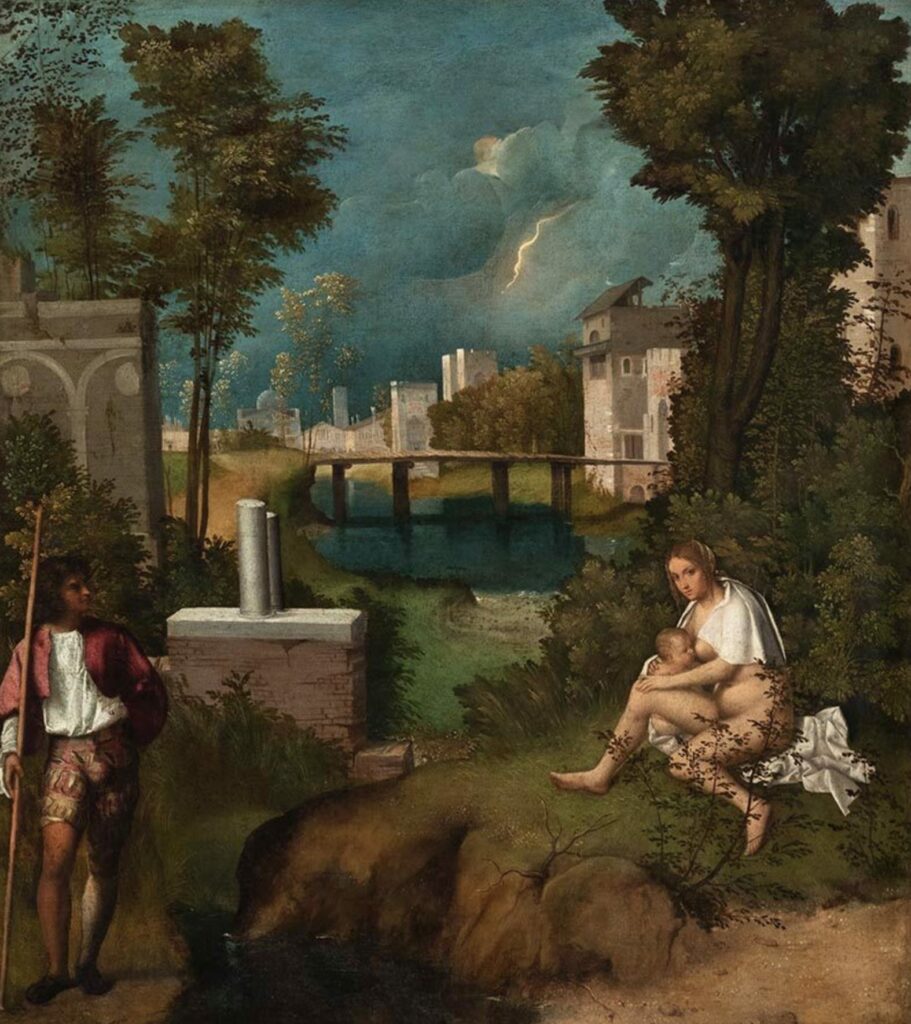 But who is the protagonist of the painting?
Not necessarily the landscape.
There are three figures in the foreground: a man leaning on a pole and a woman with a child.
All of them allude to an allegorical or philosophical meaning which could be the real subject of the canvas and which has not yet been convincingly explained by scholars.
The painting could even contain images "without a subject", born from the author's imagination without external suggestions, such as expressions of his state of mind.
The characters and style
Returning to the characters in the foreground, on the right, there is a half-naked woman breastfeeding a child, while on the left, a standing man looks at them, leaning on a pole. It could be a soldier.
The characters do not interact with each other, even separated by a small stream.
In the background, however, we see a river that runs alongside a city passing under a bridge, which is about to be hit by a storm, announced by a bolt of lightning that pierces the sky already invaded by dark clouds.
From a stylistic point of view in "The Storm," Giorgione renounced the descriptive minuteness of his earlier paintings to arrive at a richer, more nuanced chromatic impasto, mindful of Leonardo's aerial perspective, Nordic suggestions, and the Danubian school.
Do you want to discover all the other museums, with their exhibitions and events in Venice? Discover Venice on Artsupp.com
(Visited 4 times, 1 visits today)