The flagellazione di Cristo is a painting by Caravaggio presumably made during the artist's first Neapolitan stay, between 1606 e il 1607.
Until March 31, it is possible to admire the painting included among the artworks in the exhibition Oltre Caravaggio. A new story of painting in Naples at Museo Capodimonte di Napoli, where the artwork is kept in the permanent collection.
If you are also interested in all the other exhibitions in Naples in 2023, we recommend our in-depth analysis on "Exhibitions in Naples which to see in 2023" or click here and discover them all on Artsupp.com
The Patron
The Flagellazione di Cisto was commissioned to Caravaggio byTommaso de' Franchis for the family's chapel in the Chiesa di San Domenico Maggiore in Napoli.
To date it is considered one of the greatest masterpieces of the master.
La Flagellazione di Cristo: characters and inspiration
The center of the painting is the column around which Christ is tied.
On the sides are the two torturers, respectively to the right and behind the column.
The third is instead in the foreground, immortalized while he is preparing to prepare the scourge.
Christ is illuminated in the center of the picture, with his head adorned with the crown of thorns from which blood flows
Despite the pain, he seems to hint at a dance step which in some respects evokes Mannerist painting and which contrasts with the mechanical movements of the torturers.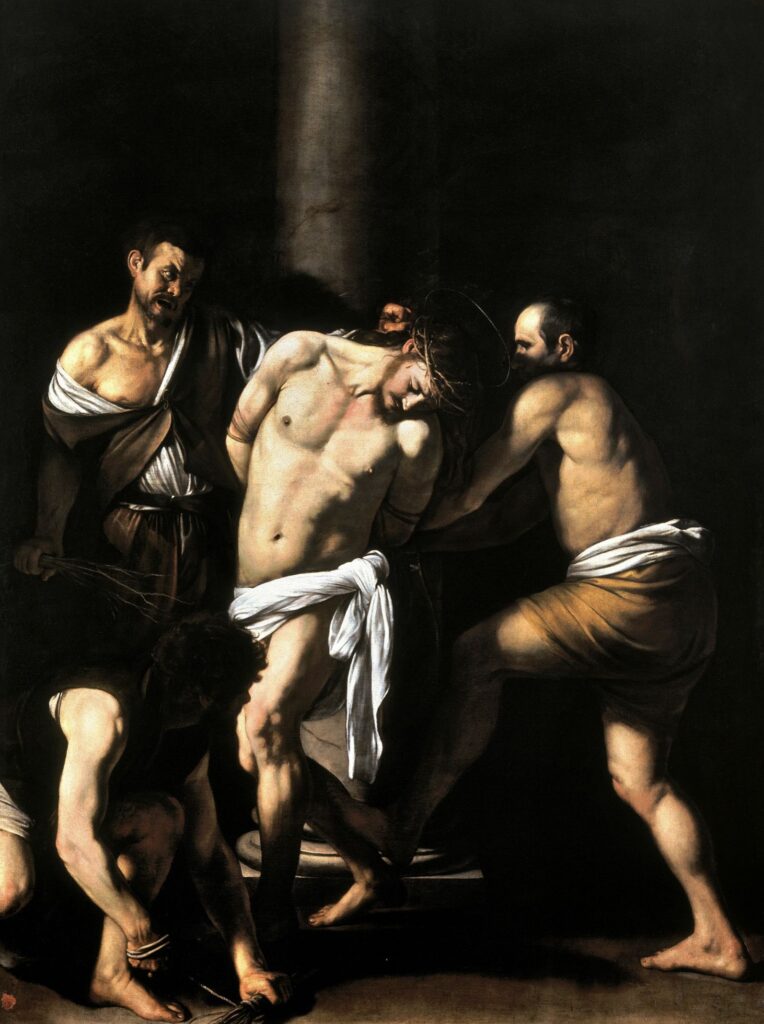 This being an artwork ordered by for a public commission, Caravaggio adopts a more conventional solution more in keeping with the canons of religious painting.
The canvas is also inspired by the Crucifixion of St. Peter that Caravaggio painted for the Church of Santa Maria del Popolo in Rome. The difference between the Naples canvas and the Roman one is found in the spirit with which the torturers are depicted.
Caravaggio paints human nature
The artwork is a unique representation of human and natural reality between sharp and lacerating contrasts of light and shadow, fragments, shreds of moving bodies caught in the moment of highest and most shocking physical, emotional and sentimental tension.
As was usual in Caravaggio's style, the portraits of some men he had met in person appear in this canvas and are also reused in other works.
Since the very beginning, the artwork was particularly appreciated by the Neapolitan artistic environment, so much so that a copy was requested from Andrea Vaccaro, still kept today in the Rosary chapel of the church of San Domenico, where Caravaggio's canvas was before his definitive move to Capodimonte.
Do you want to discover all the museums, exhibitions and events in Naples? Click here!
(Visited 1 times, 1 visits today)