The Narciso by Caravaggio is an oil painting, made between 1597 and 1599, now kept inPalazzo Barberini, in Rome.
The idea of the painting realized by Caravaggio has been proposed by Roberto Longhi, a well known art historian, although its authorship by other artists of that time, such as Orazio Gentileschi, Niccolò Tornili , and Spadarino, had previously been speculated.
Even today, there are those who insist on the hypothesis of Spadarino as its actual creator.
The myth of Narciso
As the title itself suggests, the subject of the painting is Narcissus, whose myth is told by Ovid in the third book of Metamorphoses .
According to legend, Narcissus was known for his proverbial beauty.
Narciso, victim of the vengeance of one of his many mistresses, who invoked the help of the goddess Nemesis to punish the young man guilty of rejecting her, found himself under the spell of his own fascination: while seeing his own image reflected in a puddle he fell madly in love with himself.
In the end, consumed by this unattainable feeling, he will be killed by it.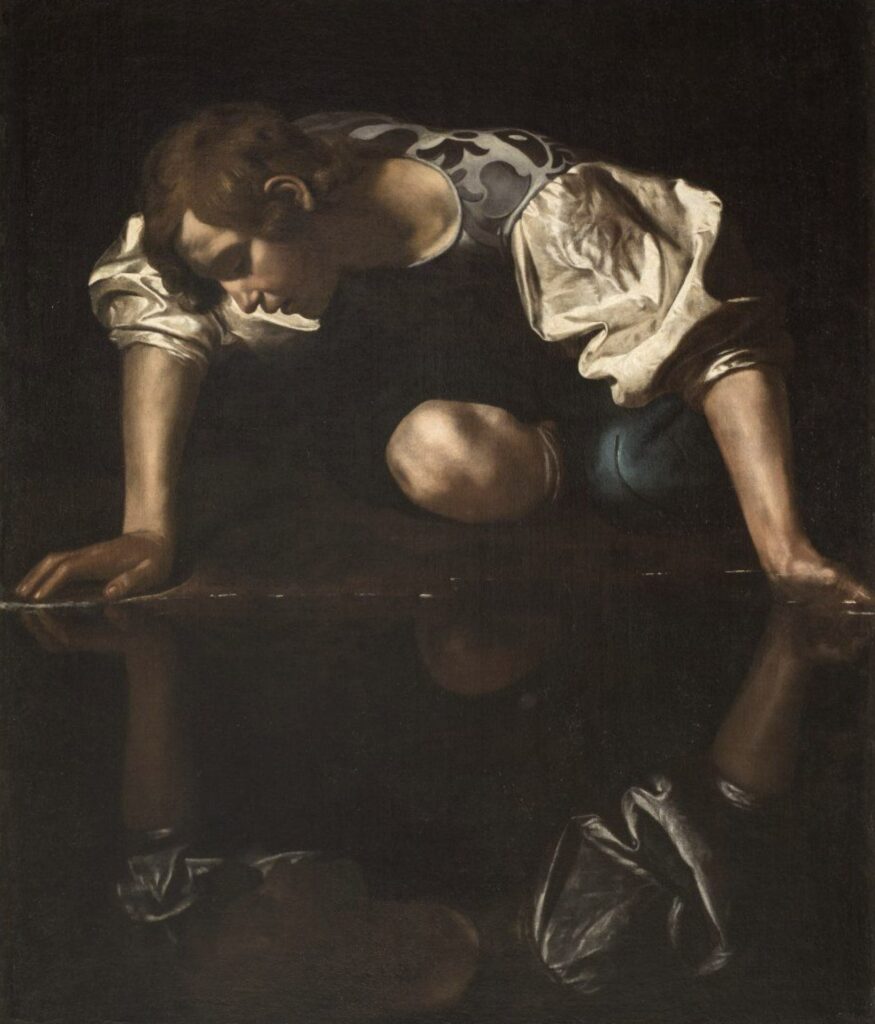 In the painting now in Rome, Caravaggio portrays the moment before the discovery of the deception: the image that Narcissus saw in the puddle of water was nothing but the projection of himself.
Do you want to discover all the artworks at Palazzo Barberini? Click here!
Caravaggio's Narcissus: the compositional scheme
Caravaggio's Narcissus is painted with an 'incredible wealth of detail.
Worth noting, for istance, the shirt sleeves that are painted, in the mirrored figure, according to their exact reversal.
Of particular note, is precisely the compositional scheme thought like a playing card: the lower part is mirrored to the upper part as if the whole thing had been reversed by exactly 180 degrees.
The bare knee in the center of the painting captures the viewer's visual attention, and the wide puffy sleeve accompanies the gaze to the hand dipped in water in an attempt to embrace the self-image.
The young man's mouth is opened: it coincides with the climax of Narcissus ' yearning, who shortly thereafter dies on the bank of the spring.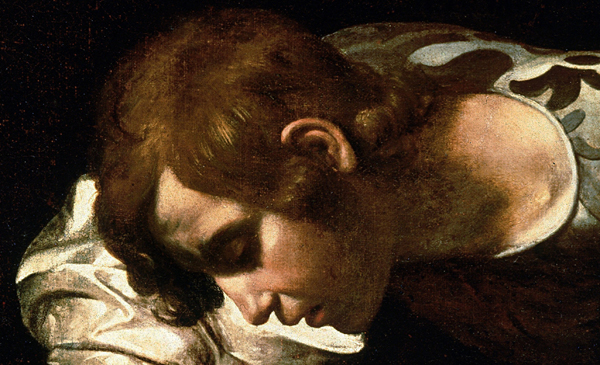 Caravaggio's Narciso, from a mere stylistic point of view refers back to Lombard painting, Brescian to be precise.
The making of the painting probably took place during Caravaggio 's stay at Palazzo Madama, at that time home of Francesco Maria Del Monte, during the period when thematic allusions related to classical mythology were becoming increasingly prominent in Rome.
Although some scholars raise doubts about who actually painted the artwork, Caravaggio's Narcissus remains one of the masterpieces of seventeenth-century art and among the best-known and most appreciated artworks in the collection of Palazzo Barberini .
Want to find out about all the artworks, museums, exhibitions and events in Rome? Click here!
(Visited 2 times, 1 visits today)